Commercial & Industrial Roofing Services in Albuquerque, NM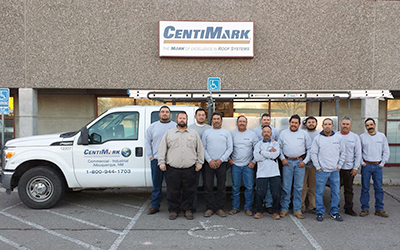 National Commercial & Industrial Roofing Company
In Albuquerque, NM, CentiMark is a leading provider of commercial and industrial roofing services. CentiMark is a nationwide roofing company with locations spread across the United States. This CentiMark office is in Albuquerque but services the surrounding areas in both New Mexico and Texas. Popular service areas include but are not limited to Alamogordo, Alburquerque, Clovis, Deming, Farmington, Gallup, Las Cruces, Roswell, Santa Fe, Socorro in New Mexico as well as El Paso County in Texas.


Commercial Roofing Options
Recommending the right industrial or commercial roofing systems is something not to be taken lightly. CentiMark has a team of professionals that evaluates your roof before making any recommendations. Some commercial reroofing options include: Built-up Roofing (BUR), Modified Bitumen (Mod-Bit), Ethylene Propylene Diene Monomer (EPDM), Thermoplastic Polyolefin (TPO), Roof Coatings, Steep Slope, Polyvinyl Chloride (PVC), Spray Polyurethane Foam (SPF), Metal Roofing and more.
If you are wanting to reduce your carbon footprint, CentiMark in Albuquerque, NM can help you accomplish that goal because CentiMark offers a variety of green roofing options. CentiMark has everything from cool roofs and energy-efficient photovoltaic systems to garden roofs and daylighting. Green roofing is also a great way to save on your utility bills. CentiMark's green roofing options can also help you earn LEED points with your next roofing project.


Roofing Contractor Services in Albuquerque, NM
CentiMark provides services to Albuquerque area customers from installation and beyond. Commercial roofing services include: roof evaluations, emergency roof repairs, preventative maintenance, roof cleaning, storm damage repairs and other related services.


The CentiMark Difference
✔

As an industrial and commercial roofing contractor serving Albany, NY, CentiMark is dedicated to meeting the needs of businesses like yours. Experienced crews thoroughly evaluate the roofing needs of your business before recommending the ideal roofing solution.
 

✔

To CentiMark, safety is a top priority. Before starting work on your roofing project, you'll be provided with a thorough safety plan with applicable targeted actions so you'll know what to expect and how to be prepared.
 

✔

CentiMark takes great pride in its roofing systems, workmanship, and materials. A versatile Single Source Warranty is available that can be customized, extended, or transferred to meet your needs.
 

✔

References are an important part of any service industry. CentiMark maintains an extensive database of references that are sorted according to criteria such as roof size, industry, and roof type.
 

✔

Emergency roof repair and warranty work can reduce your business's productivity. CentiMark aims to keep your downtime to a minimum with dedicated roofing crews available to handle these crucial needs.
 

✔ 

The online service tools from CentiMark are designed to make your life easier. Take advantage of our online roof management and roof evaluation programs.
Need Commercial Flooring Services or Products in Albuquerque, NM?
Contact Us Today!
Looking for professional commercial roofing services in Albuquerque? Our dedicated team is ready to assist you with all your roofing needs. Simply fill out the form below, and we'll promptly get back to you, providing the reliable solutions you're looking for!