Commercial & Industrial Roofing Services for Baltimore, MD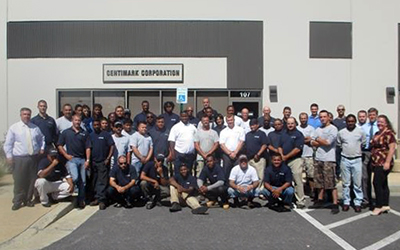 National Commercial & Industrial Roofing 
CentiMark is a name that is synonymous with diverse and comprehensive roofing solutions that are designed to bring unsurpassed value and benefits to all commercial and industrial customers.
CentiMark is a nationwide commercial roofing company with locations across the United States. This CentiMark office is located outside of Baltimore in Jessup, MD. This office services Baltimore and the surrounding areas in Maryland as well as Northern Virginia and Washington DC. The Baltimore area office has 50 field employees consisting of both production and service professionals.


Commercial Roof Systems
CentiMark provides an expansive array of commercial and industrial roofing options installed by experienced crews. Commercial roof systems offered by CentiMark include: TPO, Modified Bitumen, Built-up Roofing, EPDM (rubber roofing), Spray Polyurethane Foam (SPF), PVC, Roof Coatings, Metal Roofs, Steep Slopes as well as others.

CentiMark's experienced roofers provide a thorough evaluation of each customer's situation before providing their professional recommendations concerning the type of roofing solution or roof repair that best accommodates their needs. If interested in learning more about each type of roofing system, visit CentiMark's roof systems page.


Baltimore Green Roofing Options
CentiMark continues to lead the Baltimore commercial roofing industry in providing green roofing options to its customers. These services include energy-efficient roofing, garden roofing, photovoltaics, cool roofs, daylighting and more. CentiMark's environmentally friendly roofing options can also contribute to LEED points so be sure to inquire about this if you are interested in earning LEED points with your commercial roofing project.


Baltimore Roofing Contractor Services
CentiMark's commercial roofing contractors offer more than roof replacements and provide a variety of roofing services and programs. Roof services provided by CentiMark include preventative maintenance, roof repairs, roof cleaning, roof snow removal, 24 hour emergency roofing repair service as well as roof replacement and repair estimates. CentiMark's experienced roofing crews are ready to inspect, repair and service your roof.


The CentiMark Difference
✔ 

Only CentiMark's expertly trained Baltimore area roofing crews professionally install the company's premier quality roofs.
 

✔ 

CentiMark takes safety and transparent communication very seriously so customers are always kept apprised of the relevant safety plans as well as the targeted plan of action that is expected to be followed for every Baltimore area roofing project.
 

✔ 

A Single Source warranty covering materials and workmanship is available from CentiMark for every Baltimore area roofing project, which can be customized, extended, and transferable.
 

✔ 

As a Baltimore, MD area roofing contractor, CentiMark maintains an expansive database of references that are sorted according to industry, roof type and size.
 

✔ 

In order to effectively address urgent situations, such as warranty work and emergency repairs, in a timely manner, CentiMark maintains local Baltimore roofing crews that are solely focused on these events.
 
 

✔  

By making tools such as roof evaluation programs, online roof management and more available, CentiMark cements its position as a forward-thinking Baltimore area commercial roofing contractor.
Are You in Need of Commercial Flooring Services in or Near Baltimore, MD?
Contact Us Today!
Looking for professional commercial roofing services in the Baltimore area? Our dedicated team is ready to assist you with all your roofing needs. Simply fill out the form below, and we'll promptly get back to you, providing the reliable solutions you're looking for!